I need a courier to collect an item and deliver it
People often need a courier to collect an item from home and deliver it to another location. It is important to take the time to seek out a trustworthy courier service that can provide dependable and speedy delivery. Doing so will help ensure your item arrives on time and in perfect condition.
At Eurosender, you can quickly find the most reliable and affordable courier to suit your needs. With an expansive network of couriers, we can ensure your items are delivered with speed and care.
Here is how to arrange a courier collection and delivery service with Eurosender
Quick access to all of the steps:
We will guide you through the steps on how to arrange the courier collection and delivery to your desired destination:
Step 1: Choose the pick-up & delivery countries and the desired shipping service.
The first thing you need to do when you want the courier to collect an item from your home and deliver it to another location is – to go to Eurosender.com. Select the country you are shipping from and the country you want your items to be delivered to. Select the desired service and proceed with the booking process.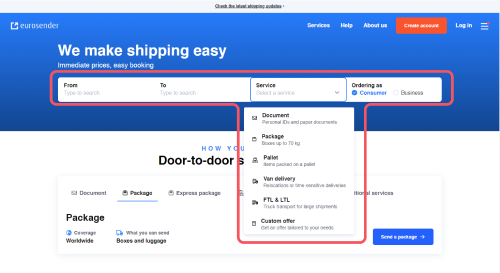 Step 2: Fill out the details regarding your shipment.
In this step, you have to insert the correct shipment dimensions, such as the weight, length, width, and height. Select also the preferred shipping option among the different provided options. Additionally, if you have to ship more packages at once, now is the right time to click on "Add package" or another preferred shipment type.
Click on the "Next step" once you have completed inserting all your order details.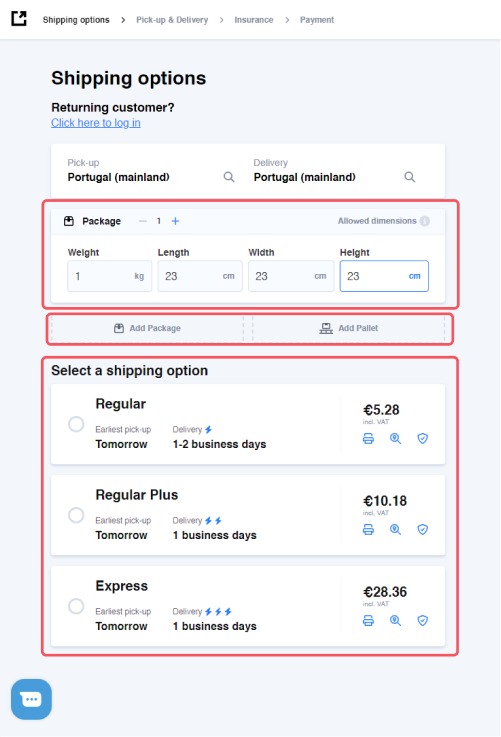 Step 3: Insert the pick-up and delivery addresses.
In this step, you will be required to fill out the details of where the courier needs to collect and deliver the items. Meaning you would need to insert the collection address from the sender's place and the receiver's delivery address. You can choose an address of your choosing as a collection and delivery address. Meaning, these addresses can be your home address, your workplace address, the neighbors' place, or others.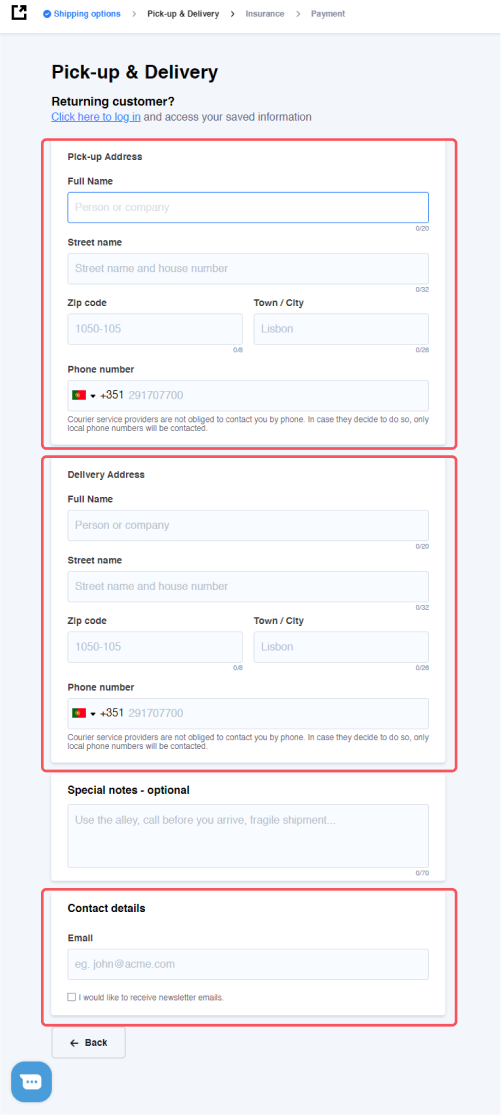 Step 4: Secure your shipment and stay flexible!
The benefit of shipping through the Eurosender platform is that most shipments are already insured by a basic coverage of up to 200 EUR per parcel with the standard shipping service. Is the item you need the courier to collect worth more? Consider purchasing additional insurance!
Choosing insurance when shipping packages is essential as it ensures that you are covered in the event that your package is lost, damaged, or stolen during transit.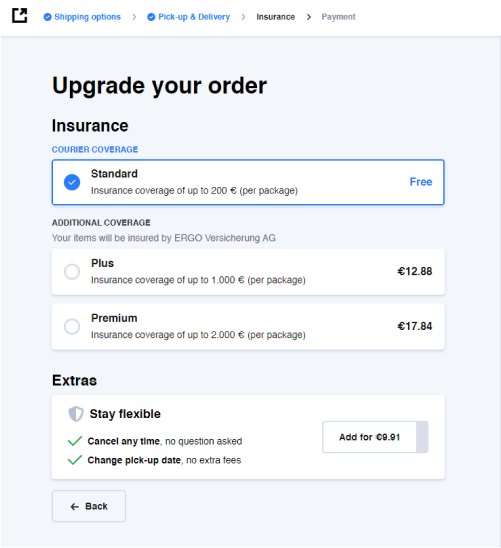 Step 5: Pay for the parcel you need the courier to collect and deliver.
There are several payment methods you can choose from to pay for your order:
Credit cards
PayPal
Google Pay
Apple Pay
Bank transfer
User credits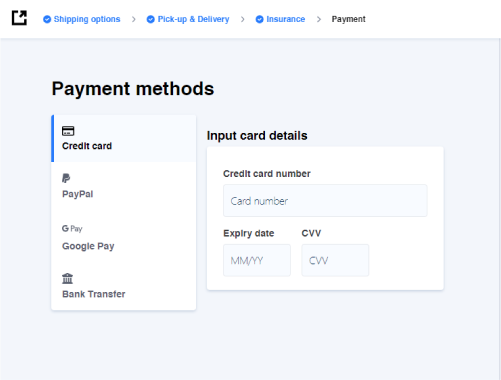 Step 6: Booking confirmation!
Once you have successfully completed the booking process, you have confirmation that the courier will come and collect the items from your house's comfort and deliver them to another location. In this step, you will find the summary of your order and some packing instructions! You need to make sure that your shipment is ready for collection as per the courier's requirements on your selected date.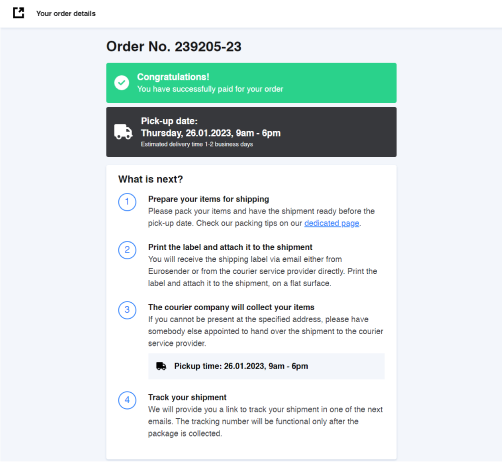 Why choose Eurosender when you need a parcel collected and delivered to you?
Eurosender is ideal when you need the courier to collect an item and deliver it elsewhere, as we provide our customers with a vast selection of routes to choose from for their desired destination. We offer unbeatable rates and provide great flexibility, enabling us to cater to any shipping need.
Eurosender provides assurance, security and comfort in knowing that your package will be safe and arrive on time. By choosing Eurosender, you're making an informed decision that is backed by decades of experience and expertise in the field. Check your price now!
You may additionally be interested in reading about:
FAQ when I need a parcel collected and delivered to me
Can I get a parcel collected and delivered on the same day?
With our Express Service, Flexi, or Regular plus you can arrange a same-day parcel collection for your urgent shipments to be transported on most global routes. Choose from a wide range of shipping services available and select the fastest delivery solution when you need an urgent delivery service during the booking process.
I want an international parcel collected and delivered. Is this possible?
Yes. Our international parcel postage is available worldwide! You can ship your items anywhere, and the courier will collect them directly from your address. All you have to do is prepare the package and wait for the courier. It's that easy!
I need a parcel collected and delivered to me with a parcel tracking option. Is this an option?
Yes, Eurosender offers a tracking option for parcels. entirely for free. If you need your collected parcel tracked until delivered to you, you can use the Eurosender Domestic and International tracking.
Can I get a parcel collected and delivered to me to a different address after the order is shipped?
Unfortunately, in most cases, you cannot change the delivery address after your order is shipped since the parcel is in transit. You could request another nearby delivery location once the courier driver attempted to deliver the package if no one was at the site. If this is the case, you may receive a call, or you will be left with a note with instructions.
I need the courier to collect an item at an exact hour. Is this an option?
Most courier companies provide an estimated collection (and delivery) time frame, usually between 9h and 18h. The exact time is influenced by the van's route and other factors unrelated to the company or the driver, such as traffic or weather conditions.
I need a large item collected and delivered to me. Can this be arranged?
Yes, with Eurosender you can send items of any sizes. There are different services to use when shipping large items, such as shipping on a pallet, inside a van dedicated for your items only, a shared truckload or even a full truckload. You can read more about shipping large items here.
Still have questions?
Check our delivery guides for more information.