The process of moving can be pretty stressful and overwhelming for a lot of people. We understand that many movers wonder what's the proper way to load a moving van, especially first-time movers. This is why we've made a step-by-step guide on how to pack a removal van for you to follow during your move, along with a visual moving truck diagram for packing.
Choosing the right moving company
If you decide to handle the moving process by yourself, you need to make sure that you hire the most efficient moving company. This way, you will avoid stressing about logistics and instead focus on figuring out how to pack the removal van.
This is where Eurosender comes in! We work only with the most reputable relocation companies, whose drivers will ensure the items are delivered as safely as possible. Take a look at our van dimensions in advance and calculate the price right away. Since you will be packing on your own, you can ensure that the space in the van is completely used up. To make sure this is the case, follow the diagram for packing a moving truck.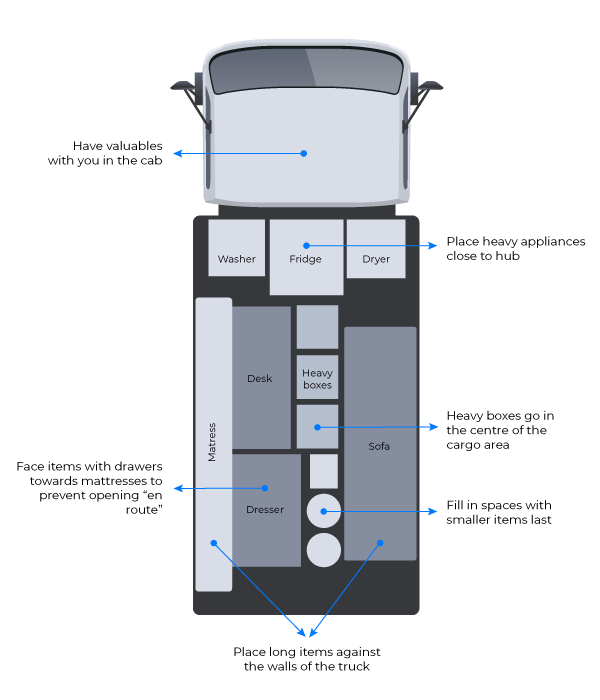 1. Decide on the size of the rental truck
Once you decide on a final moving date, it is advisable to reserve the removals truck at least one month in advance. If you need help with loading and unloading the truck, Eurosender offers also this service for an additional fee.
Eurosender offers two different types of vans:
You may also be interested in:
Whichever van you choose, be sure it's not too small for all your belongings. Perhaps the smaller van would be cheaper to rent. However, it will only cost you extra time and money in the long run if it does not fit everything. For example, if a van is too small to fit your belongings, you'll be forced to make multiple trips back and forth. For more advice on how to efficiently pack your belongings, read our room-by-room packing guide.
2. Gather packing supplies
The proper way to load a moving van starts with gathering all the necessary packing supplies. Everything from sturdy boxes, plastic wrap, packing tape, bubble wrap, furniture pads, and moving blankets. Your items will probably shift and move during transportation, so ensure that all the items are protected. You may consider adding moving blankets and padding to fill any gaps between the items.
Here are our detailed packing guidelines for many different items.!
3. Ask friends to help
Wondering how to pack a removal van on your own? Our advice is to ask for help! Since loading and unloading the moving van is a painstaking process, consider asking friends and family for help. It's never a good idea to lift and carry heavy furniture and boxes yourself.
4. Disassemble furniture
Furniture items are usually the bulkiest items in the moving process. Disassembling them will save you a lot of space in the moving truck. Consider disassembling bed frames, tables, and other furniture items.
Read more about:
5. Large and heavy items should be loaded first
If you were to take a look at the packing-a-moving-truck diagram, you will see that all of the bulky and heavy items like furniture and large household appliances are placed in the back. Also, since these items are heavy, make sure they are placed at the bottom of the moving truck so as not to crush and damage other boxes and belongings.
Read more about:
6. Place large furniture in an upright position
Bulky furniture items will take up much more space in the moving truck when laid horizontally. To save up on space, place couches and tables in an upright position. Follow our guide on how to pack furniture for more tips and tricks!
7. Rugs should be rolled up
Another tip for packing a removal van as efficiently as possible is to roll up all your rug and place them in an upright position. Use plastic wrap to ensure they don't get damaged during the moving process.
Read our guidelines for packing rugs for shipping.
8. Lighter items should be loaded last
Now that you've finished loading the heavy and bulky items, it's time for light items such as small kitchen appliances, small bags with clothes, plants, jewelry boxes, etc. Consider packing essential documents separately.
Read more about:
9. Distribute the weight evenly
Ensure that the weight in the back of the van is distributed evenly. This will make it a lot easier to load and unload without boxes falling over. Furthermore, evenly distributing the weight will ensure the driver has control over the vehicle.
Loading and unloading a moving truck is no piece of cake, so have in mind that safety should always be your number one priority. However, with the help of our step-by-step guide and our reputable range of moving companies, you will be good to go!
Still have questions?
Check our relocation guides for more information.