A failed delivery attempt means that the courier driver tried to deliver a parcel to a customer, but the delivery was not successful. In most cases, you will find a note left by the driver notifying you about the attempt and the failed delivery. An attempted delivery will also be visible in the online tracking system of your logistics service provider. There are three most common reasons for an unsuccessful delivery attempt.
Most common reasons for a failed delivery attempt
The receiver was absent, meaning there was no one at the address to receive the parcel.
The delivery address was incorrect/incomplete. This does not necessarily mean that you wrote down the wrong address. It can be that the instructions were unclear or that some details were missing.
The courier could not access the delivery location.
Read more about:
If the courier driver tried to deliver a parcel but was unsuccessful, there are three things that can happen. Read on to find out what you can do if you face a case of a failed delivery attempt.
Jump to
Unsuccessful delivery attempt due to the recipient's absence at the delivery location
In case of attempted and missed delivery, the courier will leave a note saying that either the driver will:
Other reasons for a failed delivery attempt: "problem with address" or "no access to delivery location"
If you receive either one of such failed delivery notifications, it means:
In either of these cases, if the courier tried to deliver and the attemp was unsuccesful, we advise you to contact your logistics service provider directly and to clarify with it what address details are missing or why the courier could not access the delivery address.
If you placed your order on Eurosender's platform and you are encountering such problems of failed delivery attempts, contact our logistics specialists. We will be glad to assist you!
Solutions for failed delivery attempts
Leaving the packages at parcel shops or depots
Depending on your address, the courier service provider will leave your package either at a parcel shop or a depot.
The courier will normally indicate for you the address of the parcel shop/depot where he will leave your package, but if it is not the case, simply check your courier's website to find the nearest depot or parcel shop. Your parcel will generally remain at the depot or parcel shop for five working days after the failed delivery attempt. After this period, the parcel will be returned to the sender. Once the courier company returns the package, it will be deemed delivered and the customer will not be compensated.
Read more about:
How to avoid missed delivery attempt due to customer absence
Here are some tips for you from Eurosender, which come from our own best practices in this field on how to avoid failed delivery attempts.
In general, for orders you have made via our platform, the driver will try to deliver your parcel between 9:00 and 18:00. It can be challenging to stay at home all day long, especially on working days. If you cannot be present all the time, to avoid a failed delivery attempt, try to see if someone else can be at the delivery address to accept the parcel on your behalf.
If it is really not possible for anyone to be there, you can possibly leave a note on the door for the driver. You could write a message in which you ask the courier, if possible, to leave the parcel at the backdoor or hand it to your neighbour. It is not guaranteed that the driver will follow these instructions, but it is worth a shot.
Courier companies are working hard to improve their services and avoid unsuccessful delivery attemps. Some logistics service providers have already introduced a system that sends the customer a text with the name of the driver and the scheduled time frame for delivery.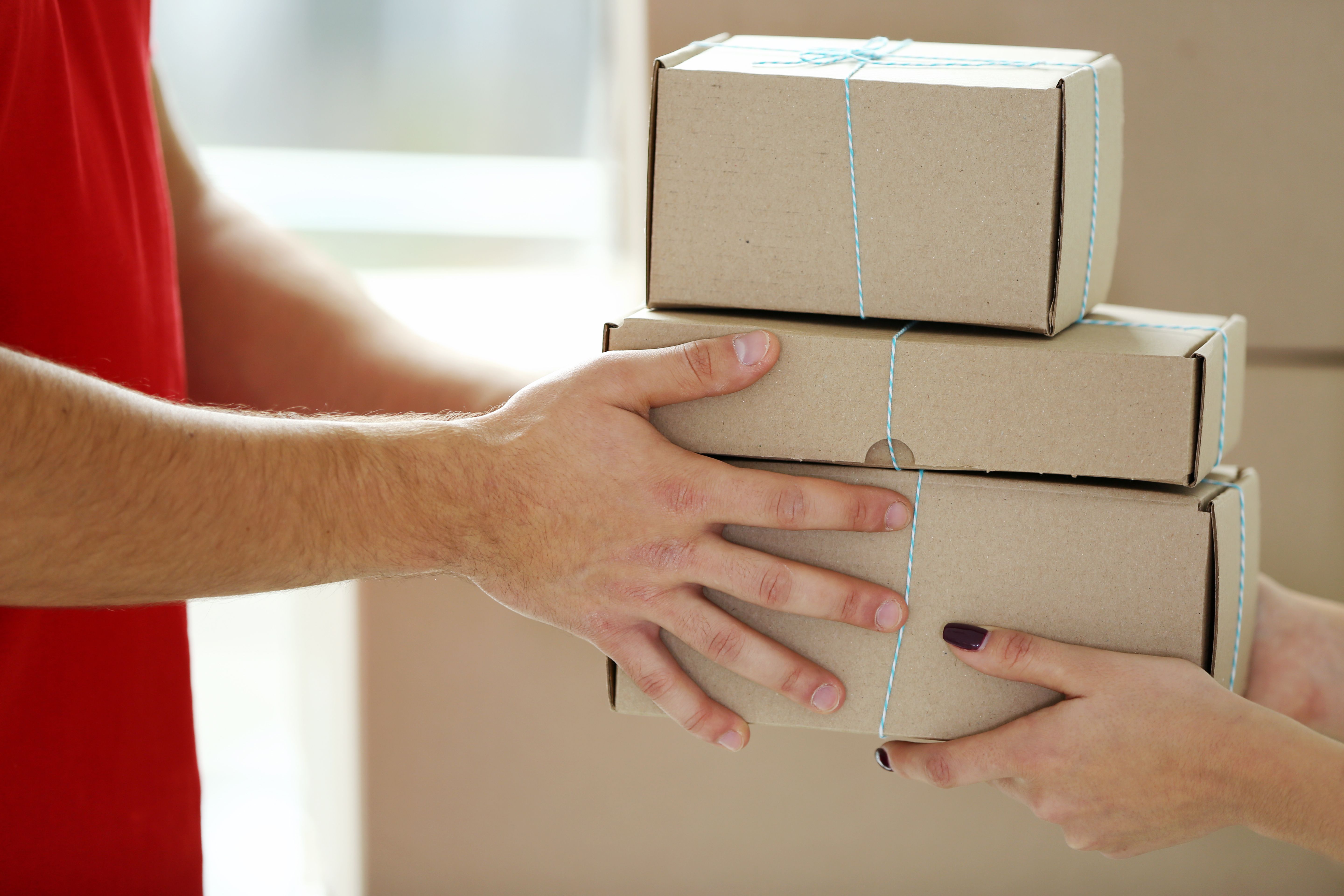 How to avoid failed delivery due to incomplete or wrong address
Before placing an order, always make sure you indicate your complete address with all the necessary details. It is important that you are careful when writing the address and make sure the name and all other given information is correct.
For example, in Germany, a customer's name must match the name on the doorbell for the courier driver to make the delivery. In case you are not shipping to a private address, but to a company or hotel, make sure to mention this information in the address to avoid a failed delivery attempt. For example, if the delivery address is a hotel, write the word "reception" in the "name" field and specify that it is a hotel.
The same goes for a company. It is common practice to specify the company's name for any type of mail sent at its address.
What is the number of attempted deliveries?
There are usually up to three delivery attempts, but there are some exceptions in certain countries where the driver makes only one delivery attempt.
For example, the following countries usually have only one delivery attempt: Sweden, Finland, Denmark, Hungary, Ireland, Netherlands, United Kingdom, Italy and Spain. In Germany, it depends on a particular courier company whether it will make a second delivery attempt or not.
What does a missed delivery cost?
It usually depends on a particular courier service provider. As for customers who have shipped their parcels via Eurosender, the second delivery attempt is free of charge (except if the delivery location is in Denmark, Finland, Hungary, Ireland, Italy, the Netherlands, Sweden, Spain or the UK, then the driver will not make further delivery attempts). It does not apply though to the above-mentioned countries with only one delivery attempt.
Extra charges can apply for requesting a third delivery attempt or delivery on Saturday. These extra charges will only apply if you request a new delivery attempt.
An e-commerce case: How are failed delivery attempts usually solved when it comes to a failed Amazon delivery attempt?
If we talk about global logistics companies, such notifications as, for example, "Amazon delivery attempt failed" (or "UPS – ", "FedEx –", or "DHL delivery attempt failed") is not such a rare thing! The same applies to other online selling platform giants, such as AliExpress or eBay.
Let's look at how, for example, Amazon, one of the biggest players on the market, solves the issues of unsuccessful delivery attempts. It would be quite a classic case (due to the Amazon's popularity and global presence), though each of the above companies may have its own additional practices of solving such issues. If you have placed an order on Amazon and received a notification saying "Amazon delivery attempt failed", we present you some information that may be useful.
When no one is present at the delivery address, Amazon courier may leave the parcel in your preferred safe place, if you have preliminarily specified such place when making an order on their website, or he may deliver it to a neighbor. If the delivery has to be completed only in the presence of its receiver, Amazon will send an electronic notification on the customer's email address. Amazon couriers usually make 3 delivery attempts in 3 consecutive business days. The parcel will be sent back to Amazon if the 3rd delivery attempt unsuccessful.
In case the Amazon's tracking system shows your parcel as being already delivered, but you did not receive it, try to verify if it may have been left with your neighbour or with a concierge. For some additional helpful information, you can visit the following Amazon's page: Find a Missing Package That Shows As Delivered. If you have already followed the tips given there, and you still cannot find your parcel, contact Amazon directly.
Last words of advice
We at Eurosender would like to note that even though you can provide your telephone number to the logistics service provider, the driver is not obliged to call you prior to delivery. If the courier decides to call you, keep in mind that he can only call local phone numbers.
When booking and using transport services on our platform, customers accept the responsibility to frequently check the status of the shipment. As soon as you notice that something went wrong in the online status of your parcel, contact either the selected courier company directly or Eurosender as soon as possible.
If you have received a notification such as "incomplete or wrong address", "absent consignor or consignee", "receiver refused the delivery" or "rerouting the shipment", contact us! For more information about failed delivery attempts, you can also read the following article.
Still have questions?
Check our delivery guides for more information.